Are you ready to launch your career in product management? If so, you're in luck! This is an exciting and growing field with plenty of opportunities for growth. In this post, I'll share some tips on how to get started and get hired as a product manager. First, let's take a look at what it takes to be a successful product manager. Then, I'll give you some advice on how to develop the skills you need for this role. Finally, I'll share some resources to help you start your journey to becoming a product manager. Let's get started!
If you want to become a product manager, I encourage you to treat your career just like you would a product. Start thinking (and acting!) like a product manager by continuously assessing, improving, and measuring all of the different aspects of getting a job. Here's how to do just that.
1. Research product manager roles
Research the different types of product manager roles and decide which one is more appealing to you. While many PM positions are 'generalists', many companies have roles for technical product management. You can be a data product manager if you love numbers, you can also be a Platform Product Manager if you like creating systems. The best way to get a sense of how these roles differ is to browse Linked In and binge-read job descriptions.
2. Create a list of target companies
Similar to thinking about the kind of PM role best suits you, you should also do some soul-searching about the type of company you would like to work for. Ask yourself the following questions:
What kind of company do you want to work for?
Do you want to work for a consumer product, or are you more interested in B2B products? Or do you think you might enjoy working on something physical, such as a consumer electronic product?
Do you prefer working in a small company or a large one?
Do you like the risk and excitement of a start-up, or would you prefer a more established, larger company that can offer career growth?
What location would you prefer to live in?
Think about all of these different types of variables to come up with a list of target companies.
3. Assess your PM skills
Using a product management capabilities framework, score your current performance honestly in each area. Are you weak in some areas and overperforming in others? Use this information to seek out opportunities that will not only play to your strengths but also help you identify the knowledge and skills you need to sharpen to reach your ultimate goal.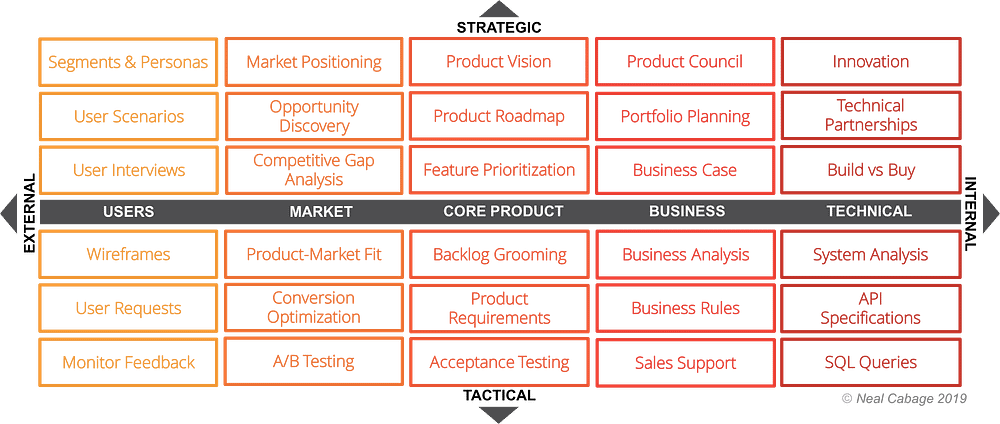 This detailed product team competency framework by Neil Cabage is a great one to use because it spreads capabilities across a strategic and tactical axis. As a future product manager, you want to ensure that you are capable of performing across the full spectrum.
4. Conduct market research
Another high-value thing you can do is talk to current product managers. Don't do it hoping to get a job at their company, though, because you will burn bridges. Treat these purely as informational interviews. The goal is to learn more about what it's like for them to work as a product manager in an effort to determine if you are a good fit for this type of career.
4. Invest in your resume
Because your resume is the one thing that a recruiter or hiring manager will expect of you, it better be perfect. Your resume has less than 7 seconds to make an impression. Think about that. In less than 7 seconds, a recruiter will scan your resume and decide if you are worth considering or not.
Many companies use an ATS system that automatically scans and rejects or approves candidates based on how good their resume is. Don't put this off until the last minute because creating a good resume takes time. Start early so that you are ready when it's time to start applying for jobs.
For more tips on how to create the best resume for a product manager job, check out these articles:
5. Practice interviewing
Interviewing is like going to the dentist. No one enjoys it, but it's a necessity.
Find someone you can practice with. And since you're managing your career like a product, think about who your 'end users' are: you'll be dealing with recruiters and hiring managers initially.
If you have an onsite interview, you'll probably deal with stakeholders such as engineers and designers. Consider who those people are, what their needs are, and what pain points they may have, and formulate a plan for how you can address them successfully when you're being interviewed.
I highly recommend Exponent's interview prep service.
6. Beta test the job
By beta testing, I mean doing something that allows you to test product management out before taking a full-fledged job. Lots of people aspire to be product managers, but not everyone has the skills and traits needed to do the job.
One way to test out product management as a career is to get an internship with a product management organization. Another great option is to participate in a hackathon in your area. Join a team or participate by yourself and create something from scratch in a short period of time.
7. If you don't measure it, you can't improve it
Finally, keep track of your efforts. Create a simple spreadsheet that tracks the jobs you've applied to and those you haven't applied to but might. Include dates for when you submitted your application so that you can follow up in a timely fashion.
If you do an interview with a company and get rejected, use that as a learning opportunity. Find out why you didn't advance in the interviewing process so you can fine-tune your approach.
With more than twenty years of experience in product management, I have interviewed and hired hundreds of people, so I know what works (and what doesn't). If you'd like to find out how to achieve your career goals in product management, check out the Product Manager Research and Job Search Bootcamp.