"How can I get a product manager job?" is the question I'm most frequently asked. Finding a new PM job can seem overwhelming. Between managing your current responsibilities and trying to stand out in a competitive job market, it can be difficult to know where to start. With the right approach and strategic planning, you can successfully navigate the job search process and find a new position that aligns with your career goals and values. In this post, I'll walk you through the steps you need to take to find your next job as a product manager.
Let's go back to the most frequently asked question. Because so many people ask how they can land a new PM job, imagine my surprise when I conducted a survey of my readers only to find out:
The top reason for not learning how to land their next product manager role was that
they were too busy

!

I know product managers are busy people. Having worked as a lead Product Manager for over twenty years, primarily at growth-stage start-ups, I get it.

When you're a Product Manager, it's easy to get sucked into trying to do everything, trying to please everyone… only to realize that you're not doing your job very well.

If you're looking for advice on how to find a new product manager job, keep reading. I'll walk you through the six steps you should take to land a new product manager job in less time than you probably think.
Why is time management such a struggle for product managers?
We have limited time
We have limited resources
We have limited support
And we're almost always trying to balance time to market with creating a product that delivers value.
Step One: Make time for your Product Manager job search.
We all have the same 24 hours in a day. Yet somehow, we often find ourselves at 6 p.m. wondering where the day went and why we didn't get more done. The trick is managing your time more effectively.
As a product manager, you have to take control of your time. You schedule recurring team meetings and project status update meetings. Add in a recurring meeting with yourself to focus on your job search.
When it comes to landing a new job, making time for your job search — and everything related to it — is crucial to finding a job quickly.
Step Two: Create a realistic job search plan.
If you're already a product manager, then you can probably whip up a project plan in your sleep. Why not create a simple project plan for your job search?
Start by giving yourself a deadline for starting a new job. Let's say you want to start the first Monday after August 1st. Once you've established your deadline, it's time to work backward. Break the job search into high-level activities based on the 5 steps described in the diagram at the top of this post.
Based on the typical job search journey I've described above, you should take into consideration how much time you'd like to have in between jobs if you're currently employed. For example, if your target start date is August 1st and you'd like to have July off, this implies that you need to accept a job offer in mid-June.
Add in a week for job offer negotiation and 2 weeks for interviews to this process. That means you should have your initial phone screen by the 3rd week of May.
Do you see how quickly the time it takes to land a new product manager job adds up? Realistically, you will need 4-8 weeks to land a new product manager job, assuming you've nailed your resume, have an excellent elevator pitch, and are prepared for the flurry of interviews that are typical.
Step Three: Prioritize your product manager job search.
Once you know how much time the job search process takes, I recommend taking the project plan you've created and putting it in your calendar. If it's not scheduled, it's unlikely to happen.
The technique I've found to be most effective in making sure the most important work gets done is time-blocking. Time-blocking is how Elon Musk runs two three four(?) innovative companies simultaneously. If he can do that, surely you can add this to your toolkit and become a better product manager, right?!?
If you truly can't squeeze in an hour every day to work on your job search, consider waking up 30 minutes earlier. Dedicate those peaceful, quiet hours to your job search at a time when you're least likely to be disturbed.
Step Four: Stay organized throughout your job search.
If you participate in my Product Manager Job Search Accelerator, you get access to two PM Job Search Tracking templates.
Keeping organized will save you from wasting time looking for contact information and important dates buried in your inbox. If you stumble across the name of the hiring manager for your dream company, you better write it down somewhere.
Let me tell you a story about "Stephanie" (names have been changed to maintain client confidentiality). I spoke to Stephanie a few weeks ago. She mentioned how she really wanted to work at a particular company.
While looking at a job posting for a role at this company, we noticed the name of the hiring manager proudly displayed on the page. I encouraged her to contact the hiring manager and apply for the position.
Two weeks later, I asked Stephanie if she had connected with the hiring manager on LinkedIn. She sheepishly replied "no" and that she couldn't remember his name. Since she clearly didn't write it down, she lost out on landing her dream job because it had been filled by the time she got her act together.
Don't be like Stephanie. Get organized and keep track of all relevant information throughout your job search.
Step Five: Find a Product Management / Career accountability partner.
I belong to an accountability pod of entrepreneurial women. We talk to each other daily, cheering each other on, asking when deadlines are due, and generally supporting each other.
Your job search may be something you can't share with your co-workers. Consider finding a group of people who are also searching for a job that you can commiserate with.
This is actually one of the many benefits of my Product Manager Job Search Accelerator. My clients can chat with me via Slack at any time when they need some advice or a kick in the pants.
If you need help finding an accountability partner, read my blog post about how to connect with other Product Managers.
You can also hire a coach to help you along the way and hold you accountable for making progress on your job search.
Step Six: Understand the Product Manager Job market.
As of this writing, there are more than 160,000 open product manager jobs posted on LinkedIn. Yet, hundreds of thousands of tech people have been laid off in the past year. Because of that, the job market is extremely competitive right now.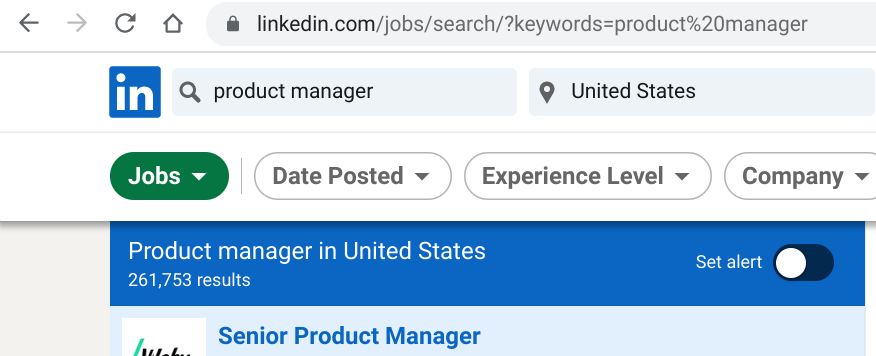 If you think you're too busy to update your resume or you don't have time to look for a job, you are limiting your career opportunities and earning potential.
Take advantage of my free resources that can help you land a new job more quickly. You can also work 1:1 with me as your PM Coach to expedite your job search process.