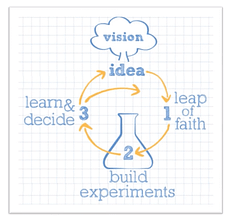 Intuit was (and continues to be) renowned for its product creation processes that are deeply rooted in understanding their customers. Their "Follow Me Home" program has been replicated by many other product teams since it was created decades ago by founder Scott Cook. Since then, Intuit has established one of the best product management organizations in the world. The company has also continued to refine how it creates products customers love by maintaining their focus on understanding their users better than anyone else.
One of the techniques the product team at Intuit uses is Rapid Testing, which is very similar to the Lean Startup Method. To learn more about how to build products like the experts at Intuit, check out this video:
I'll be writing more about the rapid iteration as part of the product discovery process soon so stay tuned for that!
If you're about to start a new role in product management and still unsure about how to get off on the right foot, I offer one-on-one, coaching sessions that I personalize for every one of my clients and I would love to help you crush it!