"I'm not getting enough product manager job interviews" is a common complaint I hear frequently. Crafting an effective resume for product managers is the first step towards securing those coveted first-round interviews. In fact, according to a study by Ladders, your resume has just 7.4 seconds to make an impact. So, let me share with you seven valuable tips to help you create a winning product manager resume that will help you land your dream job.
Whether you're an aspiring product manager or a senior product manager looking for your next opportunity, here are seven tips to help you create a more effective product manager resume.
1. Treat your resume like a product
Identify your resume's strengths and weaknesses using questions you typically ask when doing market validation on a new product. Doing so will improve your resume. It will also demonstrate your ability to communicate concisely, design something user-friendly, and be detail-focused.
2. Include a cover letter
A cover letter is your best opportunity to elaborate on skills and experience not mentioned in the job description but that will be useful to the company. If you're applying online for a job and there is no option to upload a cover letter, don't worry about it. However, if you are given the choice, sending a cover letter demonstrates that you are a motivated candidate.
3. Keep it concise
Your resume has less than 8 seconds to make an impression. Don't waste time with a long objective or mission statement at the top of the page. Focus on highlighting your skills and experience. You should never have more than 5 bullets per job. This is the time to Marie Kondo your resume and only keep the points that are most relevant to the job description.
4. Beat the ATS bots
ATS stands for Applicant Tracking System. It's used by 98% of all companies to automatically screen resumes to speed up the hiring process. According to a study conducted by Preptel, 75% of all candidates are rejected during ATS screening! An ATS-friendly resume is critical to a successful job hunt. To improve your chances of getting through the ATS bots successfully, follow these tips:
Keep the format and font simple.
Avoid layouts with columns, lines, and graphics.
Use standard headings such as "Skills" instead of "Major abilities."
Include keywords from the job description.
The product manager resume example below shows what you should NOT do. This format will be rejected by most, if not all, ATS because it does not comply with the guidelines above.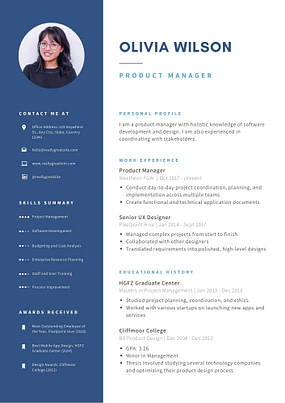 Ready to create an ATS-friendly resume? I've created a product manager resume guide that you can download here for free!
5. Tailor your product manager resume for each position
Yes, this will take more time, but you can optimize your product manager resume for each job posting with just a few tweaks. This will improve your odds of ranking at the top of the resume pile.
For example, if the job posting states that the ideal candidate will "Possess strong decision-making and prioritization skills," make sure you include examples in your resume about things such as frameworks you use for prioritizing what features to build.
I do a deep dive on this in my PM Job Search Accelerator. If you want to learn more about those, click here.
6. Focus on projects, not experience
It might seem strange to put a large-scale extracurricular project or even a school research project in the "experience" section of your resume. Still, these kinds of experiences show a hiring manager you've got a firm grasp of what a Product Manager's work entails. Typically, these types of projects involve collaboration and creativity, which are good skills to showcase.
7. Lead with outcomes, not skills
Are you familiar with the concept of burying the lead? It's when a story begins with details of secondary importance while postponing more essential facts. Don't do that! When you're describing your work experience, focus on your achievements instead of tactics. For example, instead of "Wrote functional specifications for feature X that improved usability," say "Improved usability by xx% based on my written functional specifications."
I hope you found these tips helpful in creating an effective product manager resume. However, there is so much more to the job search process than just a resume. That's why I created the Product Manager Job Search Accelerator, a comprehensive program that will guide you through the entire job search process and give you the tools and support you need to land your next product management job. It could be the game-changer you need to land your dream job.