It can be a difficult and uncertain time if you've recently been laid off from your product management job. I've experienced this myself multiple times, and it's never easy. To help you bounce back, here are some tips to help you find a product management job after a layoff. Get ready to learn the job search strategies for product managers after a layoff and take control of your career.
Reflect on your strengths and weaknesses.
Take some time to think about what you're good at and what areas you need to improve. This will help you identify the types of roles and companies that will be a good fit for you.
I created a Retrospective Guide for end-of-the-year review, but it can also be used for times like this. Download it and follow the prompts to identify your accomplishments from the past year.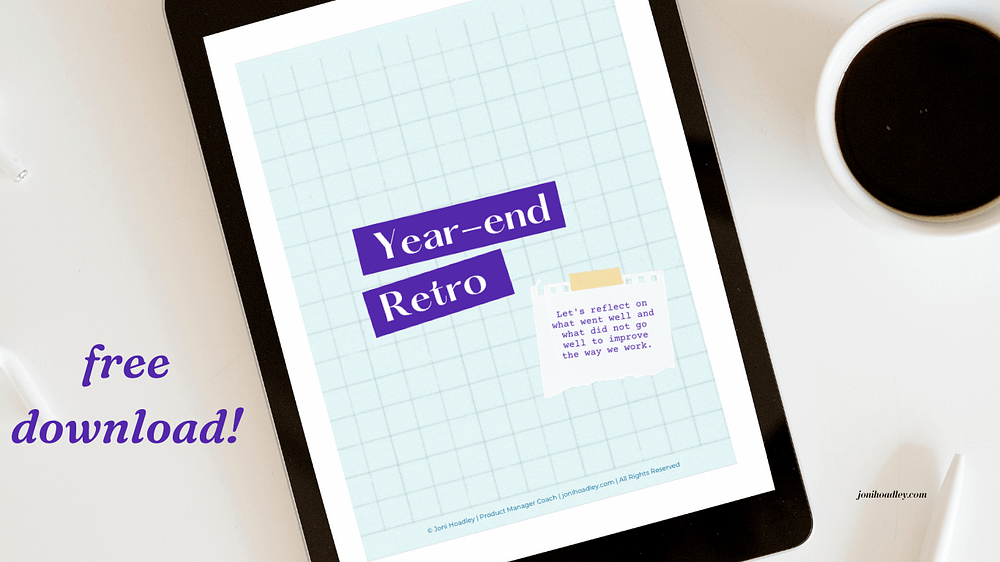 If there are any areas that you'd like to work on, take advantage of this time to sign up for online courses, read books, attend workshops, and more. It's easier than ever to build new skills and improve old ones.
On a related note, using this time to learn new skills will help you stay relevant.
Use the force (of your network).
Reach out to your professional network, including former colleagues, mentors, and industry contacts. Let them know you're looking for a new opportunity, and ask if they know of any job openings that might be a good fit for you.
Using your network to find a job is the most effective thing you can do.
In an article in Forbes, research shows that 80% of the available jobs are not even posted in online sites such as CareerBuilder and LinkedIn.
You read that right. Kind of unbelievable, isn't it?!?
So many people I know looking for product manager jobs have been disappointed by applying to hundreds of jobs they found online. The best thing they can do is tap into their network and look for hidden jobs.
Update your resume and LinkedIn profile.
Make sure your resume and LinkedIn profile are up-to-date and highlight your relevant experience, skills, and accomplishments. You can also use LinkedIn to connect with potential employers and recruiters.
Did you know your resume only has 7.4 seconds to make an impression? That's according to a recent study conducted by Ladders. That's why I'm sharing my guide for crafting the perfect product manager resume, which you can grab here.
If you're like most people, you might feel this way about having to work on your resume.
Many people have such a hard time writing about themselves because they fear sounding boastful or worry they don't have enough relevant experience.
Download my checklist for crafting the perfect product manager resume and get the help you need to make the best first impression when applying for a job.
Be open to new opportunities.
A layoff can be an opportunity to explore new industries and roles or start your own business. Keep an open mind, and be willing to consider options you may not have considered before.
Are you a product manager who's recently been laid off and feeling lost about your next career move? If so, I'm here to help! My coaching services are designed specifically to help product managers like you bounce back from a layoff and launch their careers to new heights.
With my expert guidance and personalized approach, you'll be able to identify your strengths and weaknesses, create a compelling resume and LinkedIn profile, and network like a pro to find the perfect opportunity. I'm confident that my coaching services will give you the edge you need to succeed in the competitive world of product management. Take advantage of my coaching services today and start your journey to career success by requesting a free consultation call.
Ultimately, a layoff can be a difficult and uncertain time, but it's also an opportunity to take control of your career and find a new opportunity that aligns with your strengths, interests, and goals. With a positive attitude, a little effort, and a lot of networking, you'll be on your way to the next chapter of your product management career.