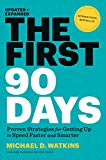 As an active participant in several online communities for product managers, one of the questions frequently asked is, "How can I prepare to succeed in my new role as a product manager?" I always respond by recommending this book, The First 90 Days: Proven Strategies for Getting Up to Speed Faster and Smarter, by Michael D. Watkins. This handbook is designed to help people navigate times of change and transition.
I find this book particularly useful for people transitioning into a new product management role because it talks about being strategic, securing early wins, and creating alliances… actions I've found to be especially critical for product managers who are often at the nexus of a company's product development, marketing, and operational departments.
Another excellent resource for quickly getting up to speed in your first 90 days is this video by Todd Birzer, creator of the 3-minute Product Manager series, which is simply outstanding.
According to Todd, the key theme in those first days should be getting a few early wins under your belt. He provides a recipe for how to do just that. He breaks the ninety days into a month-by-month roadmap that you can follow.
I like how he's very pragmatic in his approach and gives realistic goals, knowing that you will be drinking from the firehose during this time. All the steps he outlines can be accomplished relatively quickly, setting you up for success.
Of all the tips he provides in this packed 3-minute session, my favorite is to nail down the process to be used for product discovery and delivery so that you can ship 1-2 key enhancements that deliver value to your customers, which will help you learn about your customers' needs, establish credibility and generate early wins.
I'll write more about the product discovery process soon, so stay tuned for that!
If you're about to start a new role in product management and still unsure about how to get off on the right foot, I offer one-on-one coaching sessions that I personalize for every one of my clients, and I would love to help you crush it!