Expressing gratitude every day is a key to being healthy and happy. It's a practice that product managers, in particular, should adopt. Too often, we PMs can be overly critical about our products, our companies, and ourselves. It's only natural… we're expected to analyze everything and come up with ways to improve things. It's hard to switch that part of our brain off.
As many of us in the U.S. prepare to spend Thanksgiving apart from our friends and family, it's a good time to reflect on the past year and be thankful for those wonderful moments we've experienced. Yes, this year has brought unprecedented twists and turns none of us could have foreseen at the start of the year…but there has been a silver lining in that we have had more time to spend at home, hopefully, doing things we normally would not have a chance to do.
Here is my list of 5 things product managers should be thankful for this year. This is by no means a thorough list, but merely the things that came to mind as I reflected on my own experiences. I would love to hear what YOU are most thankful for in the comments below.
1. Your Product
As I mentioned earlier, product managers tend to be a very critical bunch of people. Let's face it… our job is to analyze what's working and what's not working and then focus on making the things that aren't working better.
Take time to celebrate the successes you've achieved with your products this year. How have you added value to your products? Make a list of the big improvements that you've delivered to your customers. Commit to keeping a "ta da" list in addition to your to-do list so that you can look back at your wins and successes on a regular basis. You can also use this when it comes time to do your performance reviews or update your resume.
2. Your Boss
Managers tend to get little appreciation from their staff so why not use this time of year to let them know what they've been doing well from your perspective. Think about the things you have learned from your manager. Perhaps they've helped you become more strategic? Have they taught you to be more diplomatic? Even if your boss has room for improvement, come up with at least one positive thing you can thank them for and share that with them in your next one-on-one. Not having one-on-ones with your manager? Make that one of your goals for 2021!
3. Your Support and Customer Success teams
This one is a no-brainer, but without your support and customer success teams, where would you be? While product managers are known for understanding the needs of their customers, the "voice of the customer" typically is coming loud and clear via our support teams. They are on the front lines talking to customers all day long. They are helping your customers troubleshoot how to use your product. They are convincing customers not to abandon your product. Give them some love this Thanksgiving (and perhaps bring them some baked goodies as a special treat!).
4. Your Network
I belong to several product management communities in Slack and Facebook. The benefits of these groups are that I can connect, chat and learn from thousands of product people all over the world. I am particularly thankful to Women in Product for being so engaging and supportive. I'm also thankful Linked In makes it so easy to stay in touch with my personal network.
If you're not actively connecting with your product management peers, commit to attending at least one networking event each month. And check out the great online resources in my article about networking: 50,000 Product Managers are waiting to connect with you!
5. Your Career
Product management is one of the hardest careers to break into. According to a survey by Alpha software, only 11% of product managers began their career in product management. That means the VAST majority were in another role before becoming a product manager. If you are already a product manager, be thankful for being in a role that is in high demand! Show your career some love by spending time to update your resume and Linked In profile (even if you're not actively looking for a new job).
---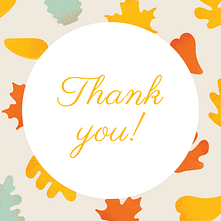 This post wouldn't be complete without thanking you, my readers, for taking time out of your busy day to read my articles about product management. I love helping people who love creating products and I am so thankful I am following my passion for helping people grow and accelerate their careers as product managers.