You may be asking yourself, why bother with a cover letter? 🤷🏼‍♀️ Maybe you've heard companies don't care. After all, most job postings include uploading a cover letter as optional. You might believe that since you're applying online, you only need a resume.
According to a recent study by ResumeLab, 83% of hiring managers who responded claimed that a great cover letter can land an interview even if your resume isn't good enough!
And consider this…While the hiring manager might have indicated the cover letter is optional, not sending one is a sign of laziness.
Your cover letter is the best opportunity you have to make a good first impression on the hiring manager. Don't squander it.
You might feel uncomfortable writing a persuasive letter to someone you likely have never met. Or perhaps you're simply unsure of how to write about yourself without sounding arrogant. Don't worry. With these step by step tips, you'll have a winning cover letter in no time at all! And make sure you read the entire article so that you can get to the free checklist I've included at the bottom of this page!
Step 1: Use a standard format
Keep your cover letter to a single page with plenty of margin space. The more white space, the easier it will be to read. If needed, do a little Marie Kondo on your letter and eliminate anything non-essential.
Use a font size no smaller than 10 points. Avoid decreasing the font size just to make the cover letter fit a single page. Your font should also be one that's easy to read, such as Helvetica or Times New Roman. And be consistent! Use the same font throughout the letter… and use the same font as the one you use on your resume.
If there isn't an option to upload a separate cover letter, copy and paste the body of your cover letter into the box on the application where you can enter free-form text if that is available.
Step 2: Address the letter to the hiring manager
This is a key step because in addition to addressing the letter to the correct person, you also will need the hiring manager's name so that you can follow up (more on this later).
If you're not sure who the hiring manager is, this is your chance to hone your research skills and find out. Go to LinkedIn and search for the company name and 2-3 keywords that would likely describe the title of the person in charge of hiring for the position you're applying for.
If you're not sure you've found the right person, find someone who works at the company (ideally who you are connected to in some way) and ask them if they know the best person to contact to learn more about this role.
You can also try calling the company's main phone number and asking the person answering the phone, but I've found that most people on that first-line of defense are protective of employee information.
Step 3: Open with a meaningful sentence
Starting a cover letter with "I am writing to apply for the product manager position at [company x]" is stating the obvious. Instead, use this initial sentence to grab the hiring manager's attention by offering a glimpse into your unique value proposition. Here are some examples:
"In my 5 years at [prior company], I increased our annual recurring revenue per user by [percentage]."
"My approach to creating products is based on combining design thinking frameworks with qualitative and quantitative data."
You should start with a sentence that makes the reader want to know more about you so they keep reading and, more importantly, are compelled to review your resume.
Step 4: Customize for each and every job application
It's okay to use the same general cover letter template for each job, especially if you're applying to several at a time. The easiest — and most effective — tweak is to review the skills and traits listed within the job description and craft 1-2 sentences that illustrate how you have used those skills and traits successfully with concrete examples.
For instance, this job description lists the following qualifications for a product manager role: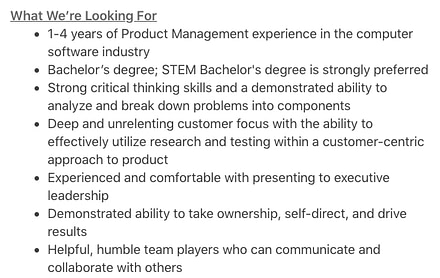 You can create a killer opening sentence, building on the example here, by tying in your own experience that matches the qualifications listed above. This would make you stand out from the crowd of applicants.
One last related tip: Be sure to mention the specific job title. The people reviewing your resume may be trying to fill dozens, if not hundreds, of job openings.
Step 5: Close graciously YET assertively
Show appreciation for the recruiter and hiring manager's time and consideration by thanking them. But don't stop there. Be assertive and let them know you will follow up in one week to answer any questions they may have.
And be sure to follow up with the hiring manager if you haven't heard back within a week from submitting your application!
Step 6: Review for typos
This last step before submitting your resume and cover letter is crucial. As a product manager, you are expected to be a master of details, big and small. If you have even one typo in your resume, that screams a lack of attention to detail. It also implies that you didn't take your time writing the resume which then implies that you don't care about the job. Spend a few minutes carefully reviewing your cover letter for grammatical mistakes and typos. If you're unsure, try a service such as Grammarly.
That's all there is to create a winning cover letter.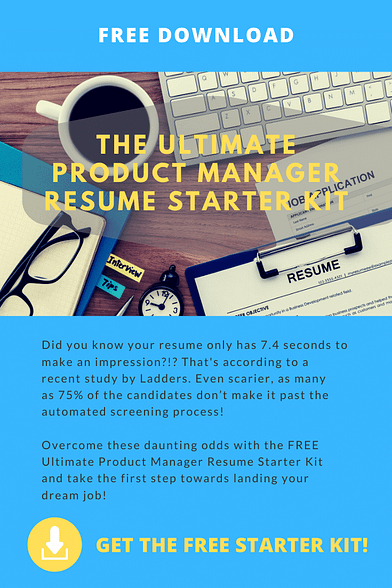 If you found this article helpful, download my free 7-step checklist to
crafting the perfect resume for product managers!